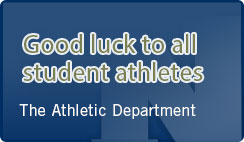 2022 Girls Swimming & Diving
Congratulations to all of our athletes who participated in Class L State Championships this season! Myranda Parker and Shannah Gray finished 7th and 8th in diving, Stacey Sheno finished 23rd in the 100 free and 25th in the 50 free, and Julia Remiszewski finished 28th in the 500 free and 33rd in the 100 back. Abby Anderson, Remiszewski, Sophia Napuli, and Sheno finished 13th in the 400 free relay while Avery Atkinson, Anderson, Napuli and Sheno finished 16th in the 200 free relay.
Congratulations to Myranda Parker and Shannah Gray who finished first and third in diving at the CCC West Championships meet. Special congratulations to Myranda who set a new school record for 11 dives!
Banquet: Saturday, December 17th
Alumni Meet: Wednesday, December 21 @ 5:00 pm
****All information is subject to change****
below for remind updates.
All swimmers and divers:
Please sign up for Remind updates by texting @nhsgswim to 81010 or using the link: https://www.remind.com/join/nhsgswim

|

|

Share