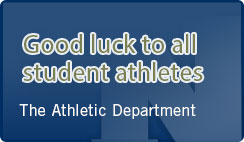 2023 Girls Swimming & Diving
Congratulations to Shannah Gray, Sophia Napuli, and Myranda Parker for earning All-Conference honors in the CCC West! Special congratulations to Myranda who also earned All-State honors for placing second in diving at the Class L championship meet!
Congratulations to Myranda Parker and Shannah Gray who finished first and second in diving at the CCC West Championships meet in both the 6 dive and 11 dive events. Myranda and Shannah both broke our 11 dive record set by Myranda last year!
Practice Schedule:
*Please make sure to come prepared to practice with a swimsuit, goggles, towel, and water bottle! NHS caps are available at the pool.
Important Dates:
Alumni Meet: Friday, December 22nd, 4:30 pm warm-up, 6:00 pm start
New swimmers & divers interested in joining the team should reach out to Coach Crystal via email at cconnery13@gmail.com for more information! Swimmers & divers of all ability levels are welcome!
****All information is subject to change****

|

|

Share