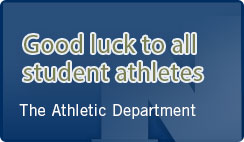 More Events

V Girls Swimming @ East Hartford

9/28/2022
3:45 pm
Away - East Hartford HS Pool


V Girls Swimming vs Hall

10/3/2022
4:00 pm
Home - Newington HS Pool


V Girls Swimming vs Southington

10/11/2022
4:00 pm
Home - Newington HS Pool


V Girls Swimming @ Berlin

10/14/2022
6:00 pm
Away - Plainville HS Pool


V Girls Swimming @ Conard

10/19/2022
3:45 pm
Away - Cornerstone Aquatics Center Pool


V Girls Swimming @ Wethersfield

10/21/2022
5:00 pm
Away - Wethersfield HS Backman Pool

2022 Girls Swimming & Diving
Practice Schedule:
*Please make sure to come prepared to practice with a swimsuit, goggles, towel, and water bottle! NHS caps are available at the pool.
Week of September 19th: M, W-F 3:00-5:30, S 8:00-10:30
Week of September 26th: M, 2:30-5:00, T, Th 3:00-5:30, S 8:00-10:30
Week of October 3rd: T-F 3:00-5:30, S 8:00-10:30
Tuesday, September 20th: Away @ Manchester @ 4:00
Wednesday, September 28th: Away @ East Hartford @ 3:45
Friday, September 30th: Home vs. Middletown @ 4:00
Monday, October 3rd: Home vs. Hall @ 4:00
Car Wash: Sunday, September 25th
Swimathon: Saturday, October 1st during practice
Senior Night: Tuesday, October 25th
Banquet: Sunday, December 18th
Congratulations to Julia Remiszewski who earned All Conference recognition in the CCC West for her performance in the 100 backstroke!
Congratulations to Myranda Parker and Shannah Gray who placed 18th and 23rd overall in the Class L Diving Championships meet!


****All information is subject to change****
below for remind updates.
All swimmers and divers:
Please sign up for Remind updates by texting @nhsgswim to 81010 or using the link: https://www.remind.com/join/nhsgswim

|

|

Share