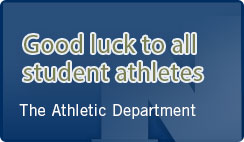 2020 Girls Swimming & Diving
INCOMING FRESHMEN AND NEW ATHLETES INTERESTED IN JOINING GIRLS SWIMMING & DIVING: Please sign up using the link at the bottom of the page for Remind messages! Feel free to reach out to Coach Crystal using the email address listed below with any questions. Make sure to check in regularly for updates that will be posted here!
Congratulations to Amber Rocheleau who represented Newington at the State Open in the 100 free, for earning All Conference honors in the same event.
Newington is represented in all events at the CIAC Class L State Qualifying Meet, Relays perform well at State Finals Meet.


Newington arrived at the Class L qualifying meet this year knowing that they would be watching at least one of their teammates compete in every swim event at the meet, a first for all of the girls in this program. The medley relay team of Gabriela Targonska, Amber Rocheleau, Lindsay Weaver, and Sarah Nadratowski started the team off with a 9th place finish, earning them a spot in the B final with a career best time of 1:57.65. In the 200 freestyle, Rocheleau finished 18th with a time of 2:04.02, while Nadratowski finished 27th with a lifetime best of 2:06.34. Targonska represented the team in the 200 IM, finishing 34th with a 2:35.19. Weaver qualified for finals in the 50 free, finishing 24th at the qualifying meet with a time of 26.69, and in the 100 fly finishing 19th with a time of 1:03.31. Rocheleau was Newington's top finisher of the day with a 7th place finish in the 100 free (54.37). Nadratowski then saw another best time in the 500 free, finishing 31st with a time of 5:47.11. The 200 free relay team of Nadratowski, Christine Nguyen, Weaver, and Rocheleau also finished 9th with a 1:47.53. Targonska saw a best time in the 100 back, finishing 28th with a 1:06.71, while Erin Abrams rounded off the individual events also finishing 28th in the 100 breast with a 1:17.41. Nguyen, Allison Goegel, Talitha Featherstone-Alston, and Targonska finished off the day with a 17th place swim in the 400 free relay. All three relays improved on their times at finals: Targonska, Rocheleau, Weaver, and Nadratowski finished 9th in the medley relay with a 1:56.63, Nguyen, Nadratowski, Weaver, and Targonska finished 9th overall with the 8th fastest time in the 200 free relay (1:45.93), and Targonska, Abrams, Featherstone-Alston, and Nguyen had the 15th fastest time in the 400 free relay (4:07.18). Weaver represented Newington in both the 50 free and 100 fly, while Rocheleau was once again the top finisher with a 5th place medal in the 100 free.
Contact Coach Crystal by phone/text at 860-558-9334 or email at cconnery13@gmail.com or sign up below for remind updates.
All swimmers:
Please sign up for remind.
Use the link below to sign up for the Girls Swimming & Diving remind.com account for updates:
https://www.remind.com/join/k74f8d

|

|

Share